Vote
Voting isn't difficult, but it's worth remembering a few things to make sure that you don't regret the outcome of your vote for the next four years. The Vaalistaja (Electoral Enlightener) will show you how to make your vote count!
Take the long way round
Hastily browsing through candidate photographs is a surefire recipe for failure. A nicely posed portrait may be appealing, but remember that you are sharing political power and not awarding points for style. Take a moment to reflect on the things and values that are important in your life at the moment.
Think about the interests that your vote will support
It's time to find out. Start by considering which political party promotes the issues that are important to you and represents your values in general. The Finnish voting system is designed to ensure that a vote for any individual candidate is also a vote for the common support base of that candidate's party. Like it or not, your vote will help to elect the most popular candidates from that party.
You cannot vote for Sanna Marin in Helsinki
After you have decided on the best party or parties, it's time to take the next step in intelligent voting. You may only vote for candidates in your own electoral district. You can find your electoral district using the search engine below (in Finnish). Enter the postcode of your place of residence and click on the Hae button.
Tiedätkö mikä on vaalipiirisi?
Kirjoita asuinpaikkasi postinumero
It's time to get personal
Now you must select someone from the many worthy candidates who are standing. Think about the things that are most important to you and see how the candidates measure up by these standards. You may browse our parliamentary election gallery for candidates who promote the interests of working people. You can also easily find candidates standing in your own electoral district on the websites of the political parties.
This picture shows how many MPs will be elected from your own electoral district: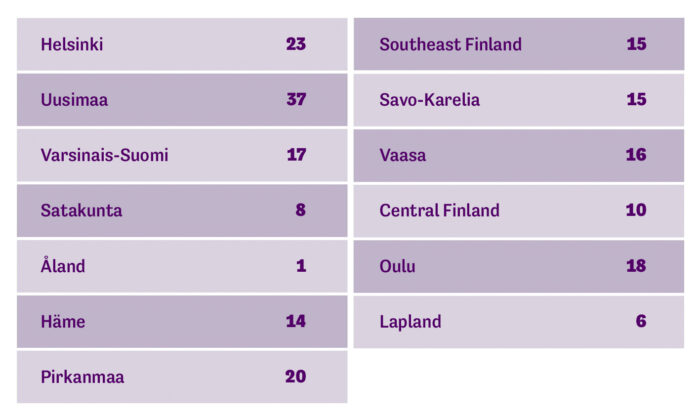 Numbers are no guide!
Candidate numbers are assigned at random in every election, so don't vote for the same number as last time. Some people also like to discuss voting issues with their friends, but remember that all voters ultimately make their own voting decisions in person.
Anywhere in advance, but only at one place on election day
You may vote anywhere in Finland during the early voting period from 22 to 28 March. Simply take your identity document to any advance polling station to get the job done (travellers in Finland should check here for a list of polling stations by municipality).
If you wait until election day (Sunday 2 April) before voting, then you must take your identity document to the polling station that was specifically designated in the "notification of the right to vote" letter that you should have already received, either by post or electronically. The polling stations will be open from 09.00 to 20.00 on election day.
Finnish citizens living abroad may vote between 22 and 25 March at selected locations, such as Finnish diplomatic and consular missions.
Bring your ID document!
Before heading out to vote, remember that you will need to prove your identity by presenting an identity card, a passport, a driving licence or some other approved document! On the other hand there is no cause for alarm if you forget your candidate's number. There is a list of candidates in the voting booth.
Three steps
When you arrive at the polling station, your identity will first be verified. Larger electoral districts have a special service counter for this purpose, where you will join a queue according to the first letter of your surname (so Ann Jones will join the "A–K" line and John Smith will stand in the queue for "S–Ö").
The election official will then give you a ballot form, which you should take into the voting booth. You should then write the number of your candidate on the ballot form. There is a guide to writing numbers in the voting booth, but you can also check the proper writing below (note especially numbers 1 and 7):

Fold the ballot form and leave the voting booth. You should present the folded ballot form to the election official (who cannot see who you voted for). The official will stamp the ballot form, which you should then drop into the urn (a big wooden box with a slot in the top).
Time for coffee?
Many people have a cup of coffee after voting. That's a reasonable idea. Others even head off for a beer to celebrate democracy.
A big thanks to you!
Thank you for having the patience to exercise your own right to vote in a carefully considered way. The Vaalistaja salutes you! You have just influenced our common future 🥰❤️💪